ETH.com : Lander of choice hosts malware, according to Avast
The domain ETH.com was reportedly sold for $2,000,000 dollars in 2017. ETH is the symbol for Ethereum and it's natural that the three letter .com domain would be used with cryptocurrency in mind.
Currently, it appears that ETH.com forwards to the domain PooCoin.app, another cryptocurrency du jour with a smiling poop as a symbol. At least, that's what an indexing service such as Archive.is captures.
Trying to visit ETH.com manually, however, we get an alert and a broken connection from Avast antivirus, that classifies the connect as dangerous, per the image below: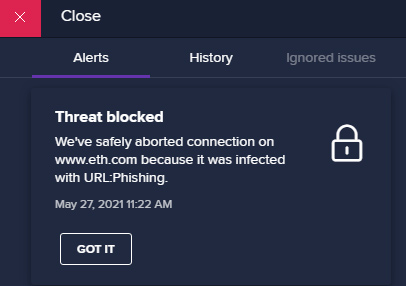 The browser connection is shut down by Avast, indicating that the content is malicious.
Looking up the status of ETH.com on Virus Total, an online checker of malicious URLs and content, one vendor out of many ranks ETH.com as "malicious."
From the looks of it, the PooCoin.app appears to be the culprit and the ETH.com operators better remove the URL forwarding asap!

Copyright © 2021 DomainGang.com · All Rights Reserved.
Source link