Pharmacia.com: Pfizer brand dropped, auctioned at DropCatch
Pharmacia.com was once a domain owned by mega-pharma company, Pfizer.
The domain expired, dropped, and was auctioned off at DropCatch, where it closed at $18,000 dollars, with DropCatch user "reference" being the winner.
Why would a domain registered in 1994 expire and drop?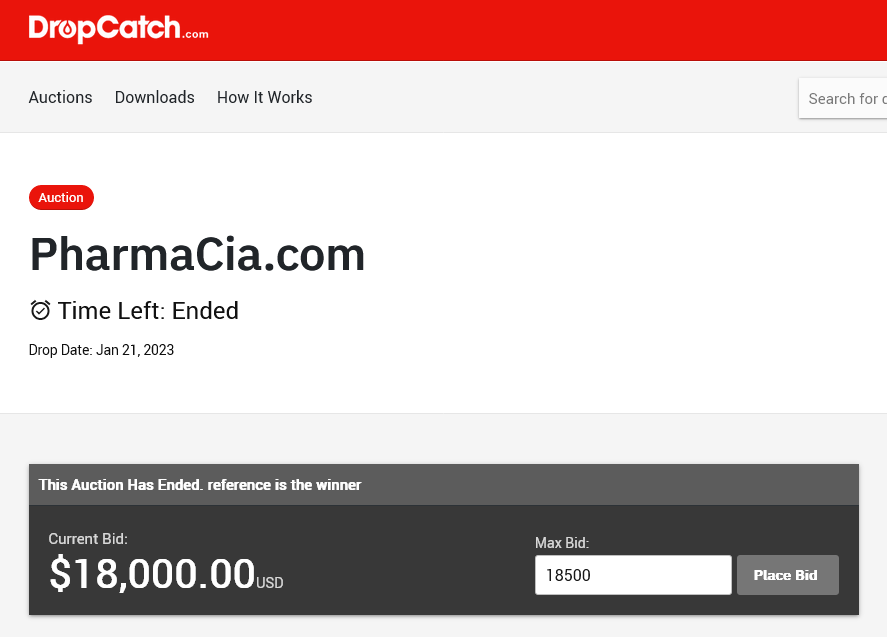 Let's see what Pfizer says:
The roots of Pharmacia Corporation date back to 1837 when a leading Italian pharmacist, Carlo Erba, started his own company, which later became Farmitalia Carlo Erba. This company would later unite with Kabi Pharmacia, which began in 1951. These two companies, along with Pharmacia Aktiebolaget, formed the three main points of origin for Pharmacia AB, which was established in Sweden in 1911.

In 1995, Pharmacia & Upjohn was formed through the merger of Pharmacia AB and The Upjohn Company. Pharmacia & Upjohn became a global provider of human health care products, animal health products, diagnostics and specialty products. In 1998, Pharmacia & Upjohn relocated its global headquarters from the United Kingdom to the United States.

In April 2000, Pharmacia & Upjohn completed a merger with Monsanto and Searle creating Pharmacia, a dynamic new competitor in the pharmaceutical industry. This top-tier company's innovative medicines and other products saved the lives of many and enhanced health and wellness. Following the merger, Pharmacia continued Searle's agreement with Pfizer to co-promote Celebrex, which was originally co-developed by Searle and Pfizer.
There were later developments, according to Wikipedia:
The remnant of the Stockholm-based part of Pharmacia was partly spun off to Biovitrum in 2001, which sold off its plasma products division to Octapharma in 2002.
In 2004, the allergy-diagnostic division of Pharmacia was sold off as Pharmacia Diagnostics.[22] Later in 2004, the Uppsala-based ophthalmology division was sold to Advanced Medical Optics.
In April 2006, Pharmacia Diagnostics changed its name to Phadia, which ended the use of the Pharmacia trademark.
The domain Pharmacia.com remained at MarkMonitor under the control of Pfizer. For some unknown reason, the domain was not renewed in November, resulting in its eventual deletion.

Copyright © 2023 DomainGang.com · All Rights Reserved.